CROSS-OPERAS ®
5 Cross Operas for all age and audiences, 40 – 90 min long, intimate or explosive, inventive and ccoperative, from slam poetry to cartoons… Liberate your mind, we'll plan the next one together WITH YOU !
The heart of the cross-opera® lies in its dramaturgy, made up of masterpieces, from Vivaldi to Ligeti. Composers such as Raphaèle Biston and Bruno Giner create new songs for musicians who employ their bodies, voices and movements with utmost precision. Led by choreographer Marie-Lise Naud and musician-dancer Violaine Dufès, Le Concert Impromptu becomes a poetic and emancipated performer on stage, exploring themes as diverse as the Myth of Pan and the graphic novel, which astonish children and adults alike.
PAN METAMORPHOSIS
2019 Production by Yves Charpentier and Bruno Giner – FAMILIAL AUDIENCE
PAN METAMORPHOSIS is a musical theater proposition imagined for Le Concert impromptu's five musicians. Sounds, words and mouvements – raw and wild – get freely intertwine to renew PAN's Myth and illustrate its permanent duality with all the divers metamorphosis stemming from it.
A sound before music itself, reviving the myth beyond Mallarmé, Debussy and Nijinski.
2017 Production by Violaine Dufès and Jean-Michel Bossini – FAMILIAL AUDIENCE
A Graphic Novel on Stage
Five characters haunted by The Pink Panther, La Linea and The Shadocks are depicted on stage. Between bubbles, stickers and pages, they move around a mobile stage and create an absurd and scouring grotesque, interacting with Sophie Toussaint, digital scenographer. Composer Jean-Michel Bossini scores an idiomatic soundtrack, conjugating onomatopoeias, raw noise, vocal and instrumental games, on themes stuck to animation. A living art form that's ahead of its time.
CONGOCEAN SLAM
March 2022 Production by Julien Roux – FAMILIAL AUDIENCE

Le Concert impromptu, the Slam poets of Styl'Oblique and the jazz musician and composer Julien Roux have all come together in residence at the Institut Français of Pointe Noire, Congo, to create Congocean Slam. This program is based on the epic story of the Congoo-Ocean Railwa, a monstrous inhumane construction project. In it, Violaine, the impromptu musician and dance, meets Auguste, a deep voice slam poet, and they played out a "slammed" classical tragedy, with ray and shattering expression.
October 2018 Production by Violaine Dufès
Petite forme plateau nu
The music of FEUX FOLLETS invokes the sacredness of music, from spiritual transcendance to the Blue Note. From medieval to contemporary music, from Italian baroque to improvisation, Le Concert Impromptu stirs us with the union of voices, instrumental sounds and la chanson de gestes. Shadow and light, sound and silence mingle and unravel to symbolise our final human dances.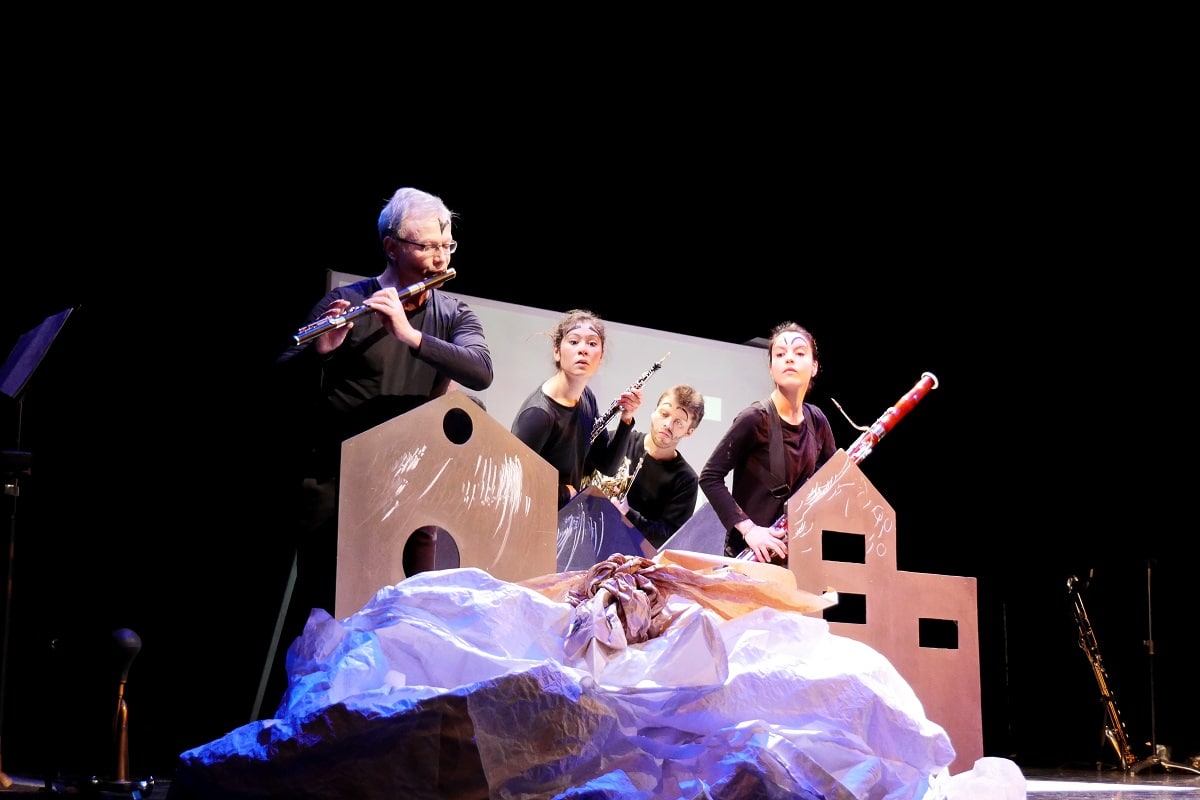 2015 Production by Violaine Dufès and Jean-Michel Bossini– YOUNG AUDIENCE
A paper bird is born before our eyes and flies away to question his own existence in the world. The young composer Raphaèle Biston creates a virtuoso and rhythmic score inspired by crumpled paper and leitmotivs borrowed from the birdsong – the heroes of the story. The musicians of Le Concert Impromptu accompany the latter in a maelstrom of paper and light.
2022/2023 Production – Violaine Dufès – JEUNE PUBLIC
Misunderstood, the grass surfer leaves a shimmering trail behind. But its apparent sluggishness is a trap. Had we only just turned away from it, a hundred appear: brown, red and tabby. The slug bites us with its slender grace and its ferocity upon the salad and peers. For an electronic and wind quintet, Manon Lepauvre's creation amplifie or accelerate the tempo whereas Eve Guastella animation plays hide-and-seek with the slug-musicians and gardeners. 
Discover our 4 cross opéras®19>20>21, watch our teaser trailers or go one step further and call us on 01 45 21 04 47 or visit our page www.le-concert-impromptu.com to book a show.
Le Concert Impromptu is sponsored by the Ministry of Culture and Communication/DRAC Ile-de-France under the set of agreements. With the support of the Regional Council of Val-de-Marne and the city of Ivry-sur-Seine. A recognised organisation of public interest.
Adami manages and advances the rights of performers in France and around the world. It also supports them financially and for their projects of creation and diffusion.